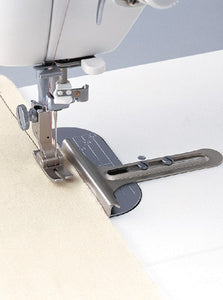 T-Gauge
Made for the TL series of JUKI machines 
This gauge is used as a guide for the edge of the fabric when sewing with a fixed seam allowance.
This guide being long at the front and back makes this gauge perfect for sewing long straight lines.
The gauge can be moved as far as ¾" (20mm) from the needle and secured by loosening and tightening the screws with a screwdriver.
For instruction and demonstration on use: JUKI TL Series: T Gauge - YouTube
ITEM NUMBER: A9846D250A0