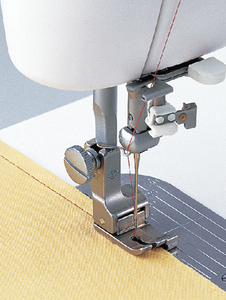 Compensating Foot Right (1/4")
Made for use with the TL-series of JUKI Machines
This presser foot is used for stabilizing stitching ¼" (6.5mm) to the left of a thick seam.

By guiding the fabric along the right toe (guide) of the presser foot, stitching can be sewn ¼" from the thick seam.
Since a spring moves the guide up or down, this presser foot can be used with a wide variety of fabrics, from lightweight to heavyweight.
ITEM NUMBER: A51409E98ZA0