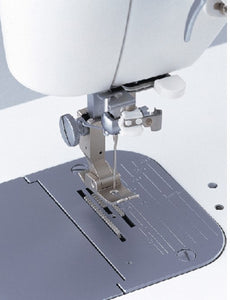 Thick Fabric Throat Plate
Made for TL-series of JUKI Machines
The large needle hole makes this throat plate ideal for sewing heavyweight materials.
This throat plate is perfect for heavy-weight fabrics and thick needles. The chance of the needle hitting the needle plate is reduced, allowing you to sew more safely with even more combinations of heavyweight fabrics and thick needles.
Recommended needle size #16 to #18.
For demonstration and instruction on use: JUKI TL Series: Throat Plate for Thick Fabric - YouTube
ITEM NUMBER: A9839090BA0