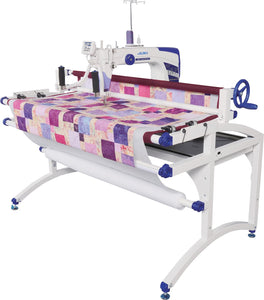 J-350QVP - The Miyabi - with table or 5ft, 7ft, 10ft frame
PRICING BEGINS AT $8,999.00 - $12,999.00
THE PRICING IS FOR THE MIYABI LONG ARM MACHINE WITH 10 FOOT FRAME!
Introducing the JUKI Miyabi J-350QVP S, sit-down free motion quilting machine! Named Miyabi, "elegance" in Japanese after JUKI's rich heritage, the J-350QVP S lives by its name with the built-in JUKI SmartStitch stitch regulator system! Never worry about your stitches being different sizes, the J-350QVP S image sensors precisely read movement keeping stitch lengths perfect. Additionally, it is the only sit-down longarm quilter with automatic thread trimmers.
Enjoy extra space to create those jaw-dropping quilts with the 30" x 30" table! Add optional leaves on adjustable height metal stand with wood top and leaf for the left or right side for more space. Ready to mount it on a frame? The J-350QVP converts to a 5', 7', 10'.
Perfect for quilters like you, who want to accomplish that high-quality and professional project, the J-350QVP S offers features that will help make your project a reality. Discover true elegance with the Miyabi J-350QVP!