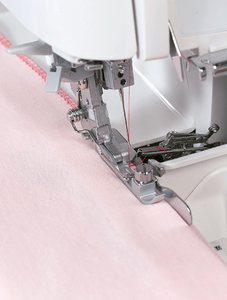 Blindstitch Presser Foot
This presser foot is used to sew blind hem stitching while overlocking the edge of the fabric.
With this presser foot, the fabric edge folded in three can be inserted and the guide plate positioned so that stitching will not be visible from the right side of the fabric.
Since this presser foot is designed specifically for use with the right needle, it cannot be used with the left needle of a two-needle sewing machine.
ITEM CODE: 401-38091